Ori and the Blind Forest tells the tale of a young orphan destined for heroics through a visually stunning Action-Platformer crafted by Moon Studios for Xbox and PC. Featuring hand-painted artwork, meticulously animated character performance, and a beautifully orchestrated score, Ori and the Blind Forest explores a deeply emotional story about love and sacrifice, and the hope that exists in us all.
Ori and the Blind Forest is a masterfully-crafted action-adventure platformer that combines exploratory gameplay with a heart-wrenching emotional narrative. Powered by the Unity Engine, Ori and the Blind Forest combines beautiful visuals and a cinematic score for an unforgettable experience. Set in a unique fantasy environment, the game is an independent offering that some pundits have likened to My Neighbour Totoro, Princess Mononoke, and Child of Light.[1][2][3][4][5] The first footage of the game was made available to the public at the 2014 E3 conference.
Summary
[
]
The forest of Nibel is dying. After a powerful storm sets a series of devastating events in motion, an unlikely hero must journey to find their courage and confront a dark nemesis to save their home. Join Ori, the last Spirit Guardian, as they discover the mysteries of a decaying forest while escaping the evil clutches of Kuro, the dark owl. Play through a beautifully created environment while combating Kuro and completing in-game puzzles to help Ori save the forest.
Plot
[
]
Prologue
[
]
(The prologue offers minimal gameplay with control alternating between Ori and Naru)
The peace in the forest of Nibel, which at first glance seems to be kept well by the harmonious branches of the Spirit Tree, is suddenly shattered with a breathtaking roar of thunder. A great storm breaks out, pummeling the forest with heavy rain and lightning and breaking off one of the shining leaves of the Spirit Tree. A powerful gust of wind sends the leaf tumbling in fluid, dazzling motions along the air currents, far from its home.
Naru, a creature of Black Root Burrows, sits idly on a ledge overlooking the woods. She suddenly spies the shimmering leaf as it flies overhead, and she follows it through Swallow's Nest. She watches as the leaf makes its descent to the ground, subsequently bursting in a gleam of light which subsides to reveal a small, white spirit, weakened and exhausted. Naru lifts the illuminated form of the sleeping spirit and brings it into a loving embrace. As the Spirit Tree narrates, Naru adopts the spirit, named Ori, as her own and raises it as her child. They spend their days harvesting fruit from the lush trees and building bridges and nests over the sparkling creek, as the player directs Ori throughout Swallow's Nest.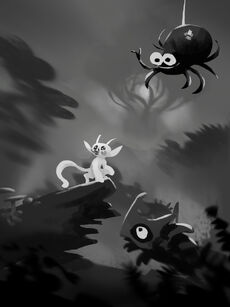 After Naru and Ori make it to the other side of their part of the forest and collect an abundance of fruit to consume, the player controls Ori to return to the cave where they live, carrying a pile of fruit in their arms. At the entrance to the cave, Ori is stopped by a dull roaring in the distance, as the Spirit Tree calls out to them in a brilliant display of light. Ori stares in shock at this amazing event, only to be pulled to the safety of the cave by Naru, fearful of the Spirit Tree's summoning cry.
Following the devastation during which Kuro stole the Spirit Tree's light (a plot point not revealed until later), the forest begins to decay. Several fades show the change in Swallow's Nest over time, each passing moment revealing dying vegetation and less fruit. Finally, as the Spirit Tree narrates that "hope never came", the player's control shifts to Naru. She leaves a sleeping Ori in the cave and attempts to find more food, but once outside, it is obvious that Nibel has been drastically altered. Where beautiful greenery and blossoms once bloomed, only wilted plants and dry trees can be found. Even the Spirit Tree, which once watched majestically over Nibel, is reduced to a crumbled silhouette amongst dusty gray clouds. Naru's search for any nourishment turns up empty and the few (and presumably last) little clusters of fruit are nestled high in a tree, far from her reach.
Naru returns to the cave, defeated and saddened, where Ori still rests peacefully. She offers Ori one last piece of fruit, kindly declining it herself, before resting on the cave floor. Concerned for its adoptive mother, Ori goes out and is able to retrieve the last of the fruit from the top of the tree via a hollow at the base. With an armful of fruit, Ori returns to the cave, seeing transparent, ghostly figures of its life with Naru along the way; mirages of Ori's memories. Just before entering the cave, a silhouette of Gumo is visible in the foreground. Upon entering the cave, Ori gladly offers Naru some of the fruit, but is heartbroken to find she has passed away, likely due to starvation. Ori briefly curls up on her with grief before eventually leaving Swallow's Nest, "with no reason to stay". Ori travels through the darkened forest of Nibel, alone, scared, and increasingly weakened from hunger. With the last of its strength, Ori crawls onto a log positioned in the foreground of the Spirit Tree and draws its last breath. At this, the Spirit Tree uses the last of its power to revive Ori, creating a vibrant display of white flowers. At this moment, the prologue ends and the game officially starts.
Gameplay
[
]
After being revived, Ori travels through the Sunken Glades evading enemies until they find a mysterious light. The ball of light is Sein, the eyes and source of the Spirit Tree's light. Sein becomes Ori's guide and support and protects them from enemies. They travel to the Spirit Tree and revisit the reason why Nibel has begun to decay. During the Light Ceremony that was intended to call Ori back home, the Spirit Tree and Ori's kin were attacked by the dark owl, Kuro. She stole Sein from the Spirit Tree's branches and disrupted the balance of the three Elements of Light, throwing Nibel into chaos. Sein tells Ori that the Spirit Tree used the rest of its light to revive Ori and that the fate of the forest now rests on their shoulders. After hearing about how they must travel to the Ginso Tree, Forlorn Ruins, and Mount Horu in order to restore the Elements, Ori begins their journey with determination to save their home.
On the way to restore the Element of Waters, Ori encounters Gumo, a member of the Gumon race. Having embraced the darkness overwhelming Nibel, Gumo steals the Water Vein from the entrance to the Ginso Tree and leads Ori and Sein to his hideout within the Moon Grotto. He attempts to trap Ori with a rockslide, but becomes pinned by a boulder. Ori frees him, a kind act that changes Gumo's heart. He returns the Water Vein to Ori who then gains access to the Ginso Tree. Ori and Sein clear the blight from the tree and restore the Element of Water which results in a rush of water that sends Ori to the top of the tree. There, Ori and Sein come face-to-face with Kuro for the first time. She attacks, sending them tumbling from the tree and swoops after them, but Gumo saves Ori from Kuro's clutches and leaves him safe in Thornfelt Swamp. With the waters restored, Ori and Sein continue their journey to the Misty Woods to find the Gumon Seal to unlock the Forlorn Ruins and free the Element of Wind. Before doing so, Ori and Sein release a pile of rocks to clear Kuro from their path, which sends one of her feathers down to Ori. Ori then uses the feather to glide to the entrance of the Misty Woods.
After finding the Gumon Seal, Ori and Sein unlock the Forlorn Ruins with Gumo following close behind. They find that all the Gumon who lived there froze following Nibel's decay, leaving Gumo as the last of his race. Though heartbroken Gumo is inspired by Ori and Sein's vow to restore the Element of Wind in memory of the Gumon. He takes the Light Vessel which had been invented by the Gumon and used by Ori to traverse the ruins, resulting in the ruins' collapse. With the Element of Wind free, Ori uses Kuro's feather to ride the updraft out of the ruins and lands in Kuro's Nest where a solitary egg sits nestled within. Touching the life within, Ori discovers the true reason for Kuro's rage.
Kuro was once a proud mother of three owlets. However, the intensity of light from the Spirit Tree's Light Ceremony accidentally killed them, leaving one unhatched egg. Enraged by the loss, Kuro retaliated against the Spirit Tree, killing Ori's spirit siblings and stealing Sein. Following this realization, Kuro arrives at her nest and drives Ori and Sein away, pursuing them away from the valley. Though understanding of her grief, Ori and Sein remain undeterred from restoring Nibel and ascend the Valley of the Wind. At Sorrow Pass upon the mountain's peak, Ori and Sein collect the Sunstone and set off for Mount Horu to free the Element of Warmth. Meanwhile, Gumo travels to Swallow's Nest and uses the Light Vessel to revive Naru. He beckons her to follow and they travel together toward Mount Horu to find Ori.
Through skill and courage, Ori overcomes the mountain's trials and rekindles the Element of Warmth. However, before they have chance to celebrate, Kuro appears and pursues Ori from the mountain in a final race as Horu's flames begin to ignite Nibel's forest. Ori and Sein barely manage to escape, with Sein imploring Ori to continue to revive the Spirit Tree as their final goal. Before they can make it to the tree, Kuro swoops in and grabs Sein, pinning Ori beneath her talons. Naru, meanwhile, has made it through the mountain and confronts Kuro at the edge of the burning forest. She bravely approaches Ori and cradles her child in her arms. This act sobers Kuro who is reminded of her own love for her chicks. Suddenly, she looks back to her nest, realizing that her last egg lies at risk of Horu's rampaging flames. Remorseful, and to save her egg, Kuro flies to the Spirit Tree and returns Sein to its rightful place. Sein restores the tree and sends out a powerful wave of rejuvenating light, extinguishing the fires and obliterating Kuro.
A healing rain falls over Nibel. Plants and flowers bloom once more and Ori basks in the new life given to the Spirit Tree as new spirits are born from its branches. Swallow's Nest is fertile once more and Naru and Gumo return to live there. Within their cave, Naru checks on her newest charge: Kuro's egg is nestled safely in a warm bed of grass and its shell cracks as it begins to hatch.
Skills and Abilities
[
]
Ori has special skills and abilities that can be learned along Ori's journey to save Nibel.
Skills
[
]
Skills can be learned from Ancestral Trees. These include:
Abilities
[
]
Ori's Ability Tree can be upgraded by finding Ability Cells or absorbing Spirit Light from defeating enemies.
Credits
[
]
Cast
[
]
Aeralie Brighton ............................... Sein (Voice), Vocalist, Language Consultant
Andrew Lackey ................................ Ori/Naru/Gumo (Voice), Audio Director
Erik Braa .......................................... Spirit Tree (Voice)
Crew
[
]
Thomas Mahler ............................... Writer, Director, Game Designer
Gennadiy Korol ............................... Lead Programmer, Project Manager, Technical Artist
David Clark ..................................... Gameplay and Core Programmer
Arie Barsky ..................................... QA Lead, Programming
James Benson ................................ Lead Animation, Additional Design
Michael Gagno ................................ Level Design
Arthur Brussee ................................ Graphics and Frameworks Programming
Maximilian Degen ............................ Concept Art, Level Art
Johannes Figlhuber ......................... Lead Art, Cinematics, FX
Anna Jasinski ................................... User Interface, Level Art
Simon Kopp ...................................... Concept Art, Level Art
Herdis Jakobson ............................... Level Art
Willem Vos ........................................ Support Programming, Audio Implementation
Rahel Brunold ................................... Animation
Kaja Reinki ........................................ Art Support
Steffen Unger .................................... 3D Character Art
Gareth Coker ..................................... Composer
Rachel Mellis ..................................... Ethnic Winds
Tom Boyd .......................................... Oboe
Alan Umstead .................................... Concertmaster
Alexander Rudd ................................. Conductor
Nick Spezia ........................................ Recording Engineer
Jasper LeMaster ................................ Assistant Engineer
Zach Lemmon .................................... Score Coordinator
Steve Kempster .................................. Mixing Engineer
Andrew Lackey ................................... Audio Director, Sound Designer
Beau Jimenez ..................................... Sound Designer
Geoffrey Garnett ................................. Sound Designer
Kristi Knupp ......................................... Sound Design and Implementation
Easter Eggs
[
]
An Easter egg is an intentional inside joke, hidden message, or feature in an interactive work such as a computer program, video game or DVD menu screen.[6] So far, diligent fans of Ori and the Blind Forest have discovered the following Easter eggs:
In the Valley of the Wind, bashing a certain green spitter off a ledge will cause the famous Wilhelm Scream audio to play.[7]
When picking up the Life Cell in the Forlorn Ruins' secret area, Super Meat Boy can be seen amongst the foreground ice.[8]
In the Sunken Glades, there is a small pool of water directly left to a Spirit Well. Underwater, there appears to be a pipe from Super Mario Bros tucked surreptitiously in the background.[9] (Note: You have to clear the Ginso Tree level to see this Easter egg, as the water is poisoned otherwise).
As a shout-out to the Legend of Zelda fans, a Triforce Symbol is inconspicuously embossed on a tree trunk in the Thornfelt Swamp.[10]
A bit further west of the Triforce easter egg in Thornfelt Swamp, high up on a tree is a carved message: "A♥S". This was inserted by a Moon Studios programmer, Arie, for his girlfriend, Sasha.[11]
At the top of Sorrow Pass, we can see a Star Wars' (or Piño's Journey) spaceship flying near Mount Horu, in the background.[12] It's a very rare Easter egg.
There's a rainbow dash Easter egg.[13] It's an allusion to My Little Pony.
If the player does the code "Left, Up, Right, Down, Up, Up, Up, Jump", Ori changes color.
If the player does the code "Up,Right,Down,Left,8,Up,Up,Jump",Ori will be teleported to another (often safer) place.
According to a podcast including Thomas Mahler, there are still some Easter eggs that fans have yet to find.
Quotes
[
]
"Searching for my light... So weak and so frail... When cries were met with silence... And the last breath was drawn... My light revived Ori, a new age had dawned."
— The Spirit Tree about Ori in the Prologue
Reception
[
]
Ori and the Blind Forest got "generally favorable" reviews on Metacritic, earning a metascore of 88/100 on both PC[14] and Xbox One.[15] While on its Definitive Edition, it receives 89/100 on Switch,[16] and 88/100 on both PC[17] and Xbox One.[18]
Media
[
]
Images
[
]
Fan Art
[
]
Videos
[
]
Videographic content pertaining to Ori and the Blind Forest.
Official
[
]
Videos either released by or include members of Moon Studios. (Content not circulated by the original developers may include- but are not limited to- panels for conventions/conferences, interviews, or keynotes.) See below for unofficial content.
Unofficial
[
]
Videos that are unaffiliated with Moon Studios. Such content was usually created/generated by fans of the game, let's players, reviewers or combinations of such. For official videos involving the original developers, see above.
See Also
[
]
External links
[
]
Reviews
[
]
References
[
]