 Moon Studios is an independent video game development studio, founded in 2010 by Thomas Mahler (former Cinematic Artist at Blizzard Entertainment) and Gennadiy Korol (former Senior Graphics Engineer at Animation Lab). The company mainly focuses on highly refined gameplay mechanics within its products and prides itself on an excessive 'iterative polish' process. Moon Studios is a distributed development house: All team members are spread throughout the world, allowing Moon to work with the best and most talented people in the games industry.
In 2011, Moon Studios became a Microsoft First Party Developer and announced it was working on Ori and the Blind Forest, which was released on March 11th, 2015 for Xbox One and PC via Steam. A version for the Xbox 360 is due to be released at the end of the year. Ori and the Blind Forest received overwhelmingly high praise, a fantastic debut for Moon Studios.
Thomas Mahler – Game Director
[
edit
|
edit source
]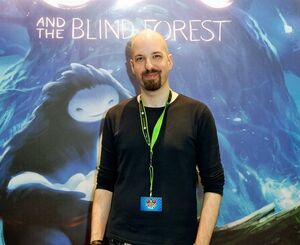 Thomas was educated at the School of Fine Arts in Vienna, Austria, majoring in Traditional Sculpture. After graduating, he soon established a foothold in the games industry by becoming a Cinematic Character Artist, working for companies like Digic Pictures and Rabcat Entertainment. During that time, he tutored students on 3d Art, Digital Sculpture, and also helped design various 3d applications and digital modeling tools.
He then moved to California to work as a Cinematic Artist at Blizzard Entertainment on titles like Starcraft 2. All the while, he worked on small game prototypes of his own on the side.
In 2010, after finishing his work on Starcraft 2, Thomas decided to leave Blizzard Entertainment to fulfil his passion of making and designing original games. After creating prototypes together with Gennadiy Korol, the two founded Moon Studios GmbH and signed a development and distribution team for Ori and the Blind Forest with Microsoft Games Studios in 2011.
Gennadiy Korol – Lead Engineer
[
edit
|
edit source
]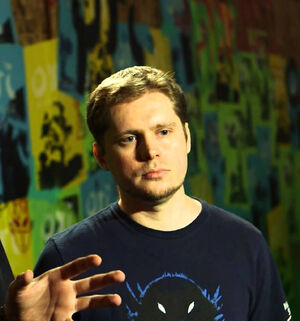 Gennadiy studied Computer Science and Computer Graphics at the University of Tel Aviv in Israel, earning a B.Sc degree for which he obtained the 'excellence prize' from the faculty.
Following his passion for Computer Graphics and Visual Effects, he started working as a hobbyist programmer, designing and developing numerous tools for high-end computer graphics applications such as Autodesk Maya and Autodesk 3ds Max. His skillset attracted attention amongst industry professionals and after gaining widespread acclaim, he was offered a position as a Senior Graphics and Tools Engineer at the Feature Film Animation Studio Animation Lab, where he worked on a motion picture called "The Wild Bunch".
In the years following his work on feature films, Gennadiy led development teams on various software startup projects. In 2010, Gennadiy Korol and Thomas Mahler founded Moon Studios GmbH and signed a development and distribution deal with Microsoft Game Studios in 2011 for Ori and the Blind Forest.
Community content is available under
CC-BY-SA
unless otherwise noted.